Using a small blood sample, the DiviTum® TKa test can aid in prognosis and monitoring post-menopausal women with HR+ advanced breast cancer.
The DiviTum® TKa test measures TK activity as a surrogate for cell proliferation and tumor growth.
Consideration may be given to spacing out imaging and using the DiviTum® TKa test as monitoring tool in-between imaging.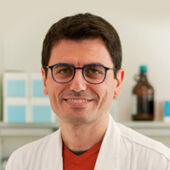 It is interesting to learn that the DiviTum® TKa test can identify progression many months ahead of imaging.
Luca Malorni, MD, PhD Medical Oncologist, Prato Hospital, Italy
Validated to be prognostic for disease progression and overall survival1-3*
Lower DiviTum TKa levels are associated with lower likelihood of disease progression*
Helps health care providers determine...
which patients are—or are not—responding optimally to CDK4/6 inhibitor therapy and who may benefit from continuing therapy4,5